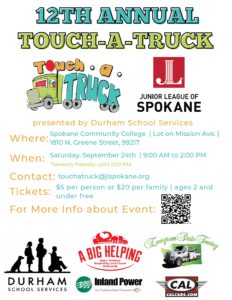 Join us on Saturday, September 24 for Touch-a-Truck 2022!
Touch-a-Truck is a family-centric event that offers children a hands-on opportunity to explore all sorts of trucks and vehicles, such as emergency, utility, construction, transportation, and buses. In addition to getting to climb in and on the various trucks and machinery, children also get to meet the people who build, protect and serve the greater Spokane community. Historically, there are usually over 30 local and national companies that proudly participate in the Junior League of Spokane's annual Touch-a-Truck event.
Vehicles on display routinely include construction trucks, emergency responders, tractor-trailers, utility trucks, and a helicopter. The event also features booths from community partners, local mascots, face painters, and food trucks.​
Touch-A-Truck Partnerships
We cannot do this work without you. We envision a world with empowered women leaders who have the tools to address society's most intractable issues. While part of a worldwide women's movement, our Mission is local and focused on a thriving and vibrant Inland Northwest. Your financial partnership helps support literacy programming for children, voluntarism in the community, and the cultivation of Spokane's next generation of female leaders.
Touch-a-Truck sponsors are crucial to its success and will have opportunities to connect the women of the Junior League of Spokane and the children and families who explore the vehicles. You have the opportunity, however, to take your support to true partnership with the Junior League of Spokane and receive recognition online and at our meetings and events throughout the coming year.
For more details about year-long partnership benefits at the Bronze and Silver levels (or Gold or Platinum), please visit the Support the JLS tab on the menu bar.
If you or your business would like more information about participating in or supporting a future Touch-a-Truck event, please look over our informational participation packet.
If you or your business is ready to sponsor or participate in the upcoming Touch-a-Truck event, please fill out and complete the Commitment Form.
If you have any questions, please email us!